Latex ready-made dimensions
Please see the size charts below. If your body proportions are close to the stated values, you can order Latex clothing according to the ready-made size.
But if you want to be sure of a perfectly fitting suit, - enter custom production!
If you have any doubts, contact us, we will try to advise you.
Neck circumference (No.16)
It is measured around the base of the neck, where your collar will normally sit.
Circumference over the breast (No. 1)
Circumference around the chest at its widest and fullest part over the nipple, (avoid placing the tape too high under the arms).
Waist circumference (No. 3)
Measure around your natural waist, where your trouser belt usually sits.
Length from crotch to ankle (No. 17)
Take measurements from the crotch along the inside of the thigh to the ankle. - a method suitable for ordering items such as Catsuit, leggings, or stockings.
For items such as Latex jeans, the length matches the length of your pants.
Thigh circumference (No. 6)
Measure around the thigh just below the crotch, where the circumference is largest. (be accurate when measuring).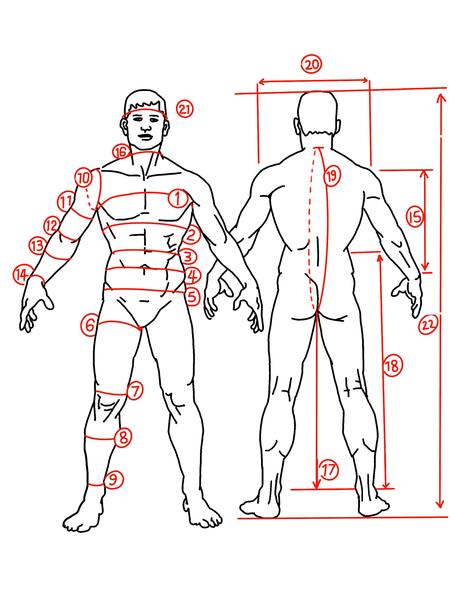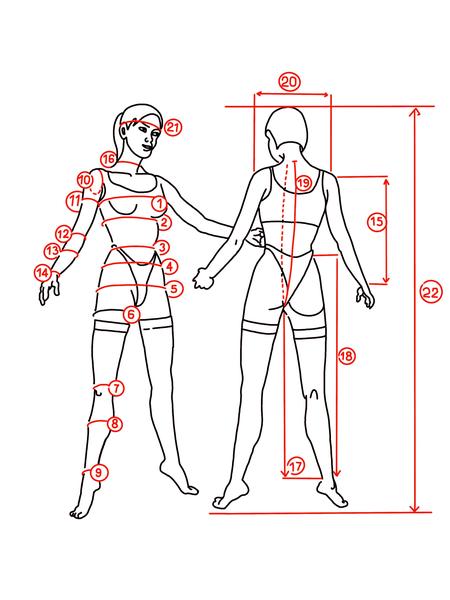 The size charts provided are for reference only and may help you determine the correct size of suitable Latex clothing.
All sizes are in cm!
size charts - men
| | | | | | | |
| --- | --- | --- | --- | --- | --- | --- |
| Sizeclothes | XS | WITH | M | L | XL | XXL |
| Torsa size (No. 19) | 145 - 147 cm | 149 - 151 cm | 153 - 155 cm | 158 - 160 cm | 162 - 164 cm | 168 - 170 cm |
| Neck circumference (No. 16) | 36 - 37 cm | 38 - 39 cm | 40 - 41 cm | 42 - 43 cm | 44 - 45 cm | 46 - 47 cm |
| Circumference over the breast (No. 1) | 89 - 92 cm | 94 - 97 cm | 100 - 103 cm | 105 - 108 cm | 110 - 113 cm | 115 - 118 cm |
| From shoulder to wrist (No. 15) | 53 - 55 cm | 55 - 57 cm | 57 - 59 cm | 59 - 61 cm | 61 - 63 cm | 63 - 65 cm |
| Waist circumference (No. 3) | 69 - 72 cm | 74 - 77 cm | 79 - 82 cm | 84 - 87 cm | 89 - 92 cm | 94 - 97 cm |
| Circumference over the hips (No. 5) | 88 - 91 cm | 93 - 96 cm | 98 - 101 cm | 103 - 106 cm | 108 - 111 cm | 113 - 116 cm |
| Length from crotch to ankle (No. 17) | 65 - 66 cm | 67 - 68 cm | 69 - 70 cm | 71 - 72 cm | 73 - 74cm | 75 - 76 cm |
| Total body height (No. 22) | 165-170 cm | 170 - 175 cm | 175 - 180 cm | 180 - 185 cm | 185 - 190 cm | 190 - 195 cm |
| | | | | | | |
| --- | --- | --- | --- | --- | --- | --- |
| Men's trousers / leggings | XS | WITH | M | L | XL | XXL |
| Length from crotch to ankle (No. 17) | 65 - 66 cm | 67 - 68 cm | 69 - 70 cm | 71 - 72 cm | 73 - 74 cm | 75 - 76 cm |
| Thigh circumference (No. 6) | 43 - 45 cm | 45 - 47 cm | 47 - 49 cm | 49 - 51 cm | 51 - 53 cm | 54 - 56 cm |
| Knee circumference (No. 7) | 36 - 37 cm | 38 - 39 cm | 40 - 41 cm | 42 - 43 cm | 44 - 45 cm | 46 - 47 cm |
| Ankle circumference (No. 9) | 19 - 20 cm | 21 - 22 cm | 23 - 24 cm | 25 - 26 cm | 26 - 27 cm | 28 - 29 cm |
| Foot length | 24 - 25 cm | 25 - 26 cm | 26 - 27 cm | 27 - 28 cm | 28-29 cm | 29 - 30cm |
| | | | | | | |
| --- | --- | --- | --- | --- | --- | --- |
| Men's mask / hood | XS | WITH | M | L | XL | XXL |
| Circumference around the head (No. 21) | 54 cm | 56 cm | 58 cm | 60 cm | 62 cm | 64 cm |
| | | | |
| --- | --- | --- | --- |
| Men's gloves | WITH | M | L |
| Circumference around the ankles of the palm | 17 - 18 cm | 19 - 20 cm | 20 - 21 cm |
size charts - WOMEN
| | | | | | | |
| --- | --- | --- | --- | --- | --- | --- |
| Clothing size | XS | WITH | M | L | XL | XXL |
| Torsa size (No. 19) | 136 - 139 cm | 140 - 143 cm | 144 - 147 cm | 149 - 151cm | 152 - 155 cm | 156 - 159 cm |
| Neck circumference (No. 16) | 32 cm | 34 cm | 36 cm | 38 cm | 40 cm | 42 cm |
| Circumference over the breast (No. 1) | 79 - 82 cm | 84 - 87 cm | 89 - 92 cm | 94 - 97 cm | 100 - 103 cm | 105 - 108 cm |
| The size of the bra cups | AND | AND | B | C | D | D |
| From shoulder to wrist (No. 15) | 50 - 52 cm | 52 - 54 cm | 54 - 56 cm | 56 - 58 cm | 58 - 60 cm | 60 - 62 cm |
| Waist circumference (No. 3) | 55 - 58 cm | 59 - 62 cm | 64 - 67 cm | 69 - 72 cm | 74 - 77 cm | 79 - 82 cm |
| Circumference over the hips (No. 5) | 84 - 87 cm | 89 - 92 cm | 94 - 97 cm | 100 - 103 cm | 105- 108 cm | 110 - 113 cm |
| Length from crotch to ankle (No. 17) | 67 - 69 cm | 69 - 71 cm | 71 - 73 cm | 73 - 75 cm | 75 - 77 cm | 77 - 79 cm |
| Total body height (No. 22) | 158 - 162 cm | 163 - 167 cm | 168-172 cm | 173 - 177 cm | 176 - 180 cm | 180 - 183 cm |
Women's stockings / trousers

XS

WITH

M

L

XL

XXL

Length from crotch to ankle (No. 17)

67 - 69 cm

69 - 71 cm

71 - 73 cm

73 - 75 cm

75 - 77 cm

77 - 79 cm

Thigh circumference (No. 6)

41 - 42 cm

43 - 44 cm

45 - 46 cm

47 - 48 cm

49 - 50 cm

51 - 52 cm

Knee circumference (No. 7)

32 - 33 cm

34 - 35 cm

36 - 37 cm

38 - 39 cm

40 - 41 cm

42 - 43 cm

Ankle circumference (No. 9)

19 - 20 cm

20 - 21 cm

21 - 22 cm

22 - 23 cm

23 - 24 cm

25 - 26 cm

Foot length

21 - 22 cm

22 - 23 cm

23 - 24 cm

24 - 25 cm

25 - 26 cm

26 - 27 cm
| | | | | | | |
| --- | --- | --- | --- | --- | --- | --- |
| Women's mask / hood | XS | WITH | M | L | XL | XXL |
| Circumference around the head (No. 21) | 52 cm | 54 cm | 56 cm | 58 cm | 60 cm | 62 cm |
| | | | |
| --- | --- | --- | --- |
| Women's gloves | WITH | M | L |
| Circumference around the ankles of the palm | 15 - 16.5 cm | 17 - 18 cm | 19 - 19.5 cm |